A verdant olive grove, a natural balcony above the sea, which is at your disposal for an unforgettable event and a unique accommodation experience.
WEDDINGS, BAPTISMS & EVENTS
Electronic
Guest
Organization
We provide you with the possibility to organize your guests electronically
We create the dream scenery that will make your day even more special.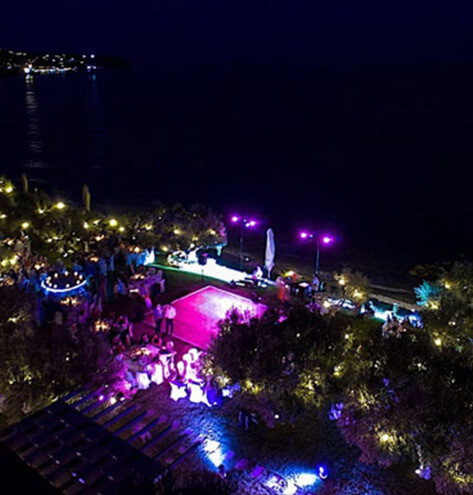 LIGHTING
The special lighting that exists throughout our green olive grove creates a unique aesthetic atmosphere, thus contributing to the satisfaction of the guests of your event.
.
DJ – LIVE MUSIC
DJs, as well as the live band that collaborates with the estate DELMARE Pantazara, with a long experience in wedding reception banqueting promises to entertain your guests.
.
FIREWORKS
Impressive fireworks (available upon request) to illuminate the night sky of your event, creating a fascinating show for you and your guests..
.
CATERING
The cooperating business with the estate Delmare create extraordinary and unique flavors for you and your guests, creative ideas that aim the gastronomically specialty and the eclectic aesthetic of the plates.
.
Along with your event, we take care of a comfortable stay for you and your guests. Choose between the three villas of the "Delmare Pantazara" Estate and complete your event in the best way.
EVERY EVENT FOR US
IS UNIQUE
Paliouri - Afitos road.
Kassandra 630 85, Greece